Toll Free: 1-877-327-4255
Harrisburg Office
Senate Box 203029
171 Main Capitol
Harrisburg, PA 17120-3029
717-787-2637
717-783-8657 FAX
Email: dargall@pasen.gov
District Offices
One West Centre Street
P.O. Box 150
Mahanoy City, PA 17948
570-773-0891
570-773-1675 FAX
61 North Third Street
Hamburg, PA 19526-1501
610-562-3411
610-562-6895 FAX
(Shared with Representative
Jerry Knowles)
100 North Centre Street
Pottsville, PA 17901
570-621-3400
570-622-6629 FAX
(Shared with Representative Mike Tobash)
2850 Windmill Road
Spring Township, PA 19608
1-877-327-4255
237 West Broad Street
Tamaqua, PA 18252
570-668-1240
570-952-3374 FAX
(Shared with Representative
Jerry Knowles)
Follow Sen. Argall on Twitter for Senate happenings – @SenatorArgall
Please join me tomorrow night (Tuesday, April 25) at 6 p.m. for a live telephone town hall event I will be hosting.
During this event, I will be discussing several key issues such as school property tax reform, the state budget and pension reform. I will also be answering any questions you have regarding state government.
The event will begin at 6 p.m. and last until 7 p.m. In order to participate in this call-in event, please sign up on my website here. Once you have signed up, you will receive a phone call tomorrow night around 6 p.m.
If you would simply like to listen to this conversation, please dial 1-877-229-8493 and use access code 111786.
I look forward to hearing from you!
Sincerely,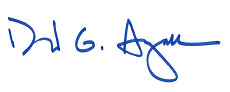 DAVID G. ARGALL
State Senator
29th District