Hello! Thank you for subscribing to my E-newsletter. I am honored to serve the 23rd Senate District and look forward to working with you toward building a better future for Pennsylvania!
This E-newsletter serves to keep you updated on what is happening throughout Bradford, Lycoming, Sullivan, Susquehanna and Union counties and what I am doing as your state senator in Harrisburg. I hope that you will find this E-newsletter helpful, and if you have any questions or concerns, please feel free to contact me.
Confidence in what you do is crucial, but that does not mean being delusional. You must always face the truth and then combat the obstacles as they appear.
Budget Negotiations Forge Ahead as First Quarter Draws to a Close
Negotiations continue between the General Assembly and the Administration to fully fund the fiscal year 2017-2018 budget. The Senate Republican Caucus continues to push for a responsible solution to close the revenue deficit despite the policy and procedural hurdles that must be overcome to finalize the budget.
One-fourth of the fiscal year has drawn to a close. Total General Fund revenue for September 2017 was $2.72 billion, which was $92.4 million, or 3.5%, higher than General Fund revenue collected in September 2016. The Independent Fiscal Office's (IFO) monthly estimate for September projected slightly higher General Fund revenue collections of $2.73 billion, leaving actual revenues $12 million less than the IFO estimate for the month.
For the fiscal year-to-date, total General Fund revenue is 4.8% higher than FY 2016- 17. General Fund revenue collections for the first quarter of the fiscal year are $6.93 billion. The IFO quarterly estimate projected collections of $6.91 billion, and so General Fund revenues are $25 million, or 0.4%, ahead of the IFO estimate thus far this fiscal year. Therefore, General Fund revenue collections appear to be on track to meet expectations.
While General Fund revenue appears to be on track to meet the IFO forecast, it is important to note that the combined Personal Income Tax (PIT) and Sales and Use Tax (SUT) amounts are slightly lagging projections. Through September 2017, combined PIT and SUT collections are $35 million below the forecasted collections in the IFO's quarterly distribution of its revenue estimate. Because, Personal Income Tax and Sales and Use Tax collections typically make up almost three-quarters of total General Fund revenue, it is too early to predict if we will meet or exceed our revenue estimate for the year.
Motor License Fund collections are $118.2 million, or 17.8%, ahead of last year at this time. Compared to the IFO's quarterly estimate, Motor License Fund collections are $79.6 million, or 11.3%, more than expected.
"Budd Bill" Approved by State Senate
Legislation I sponsored to require the installation of protective fencing over Interstate highways was unanimously approved recently by the state Senate.
Senate Bill 564 establishes a freestanding act entitled the "Bridge Fencing Safety Act" to provide for installation of protective fencing on certain state-owned bridges by the Pennsylvania Department of Transportation (PennDOT). The bill authorizes PennDOT to include protective fencing in the construction of "new bridges and erect protective fencing on any existing bridge at such time that a major renovation is required and that the bridge is located over an Interstate highway."
Senate Bill 564 now moves to the House for consideration.
"State of Addiction" Public Hearing Set for October 26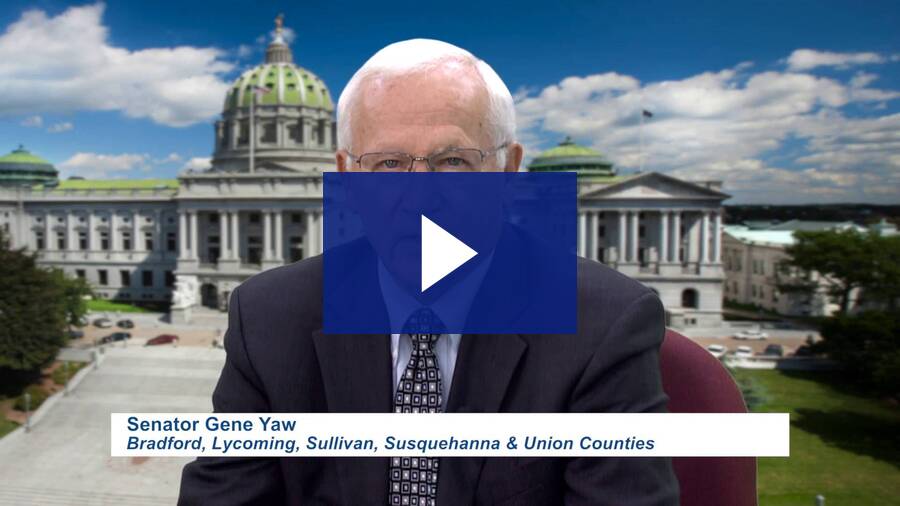 On Thursday, October 26th, the Center for Rural Pennsylvania will meet in Williamsport to gather information on what is being done at the federal, state and local levels to tackle the state's heroin and opioid epidemic, and to understand where Pennsylvania is in its efforts to confront all of the issues surrounding heroin and opioid addiction.
We are inviting professionals in the fields of law enforcement, the judiciary, treatment and recovery, business and industry, and education and prevention to offer testimony on where we are now in combatting this crisis and where we need to go.
The public hearing will be held in the Walnut Conference Center at UPMC Susquehanna, 700 High Street, Williamsport, PA 17701 and will begin at 9AM.
Committee Meetings Scheduled
Committee Hearings/Meetings Scheduled for the Week of October 16th
Appropriations Committee Meeting
Monday – Off the Floor
Local Government
Tuesday – 9 a.m. – Room 8E-A, East Wing
A public hearing regarding the Philadelphia Beverage Tax.
State Government
Tuesday – 10 a.m. – Majority Caucus Room
Nomination hearing for Greg Fajt to the Board of Claims.
SB 563 (Stefano) -- An Act amending Title 25 (Elections) of the Pennsylvania Consolidated Statutes, in uniform military and overseas voters, further providing for definitions, for duties and responsibilities of secretary and for registering to vote.
SB 817 (Rafferty) -- An Act authorizing the Department of General Services to extend the term of a certain lease of real property, being a portion of the Southeastern Pennsylvania Veterans' Center in East Vincent Township, Chester County.
SB 900 (Boscola) -- An Act authorizing the transfer of title for certain Project 70 lands owned by Lehigh County to Whitehall Township, Lehigh County.
SB 921 (Browne) -- An Act authorizing and directing the Department of General Services, with the approval of the Governor, to grant and convey to TCA Properties, L.P., certain lands and improvements situate in the City of Allentown and the City of Bethlehem, Lehigh County.
SB 99 (Greenleaf) -- An Act amending the act of December 19, 1990 (P.L.1200, No.202), known as the Solicitation of Funds for Charitable Purposes Act, providing for the regulation of collection receptacles and disclosure requirements; and further providing for criminal penalties.
Environmental Resources & Energy
Tuesday – Off the Floor
SB 799 (Alloway) -- An Act establishing the Pennsylvania Clean Water Procurement Program; providing for powers and duties of the State Conservation Commission; and establishing the Watershed Improvement Fund.
SR 168 (Langerholc) -- A Resolution directing the Joint State Government Commission to establish an advisory committee to conduct a thorough and comprehensive analysis of the potential impact of removing Cambria County from the emissions testing program and report findings and recommendations to the Senate.
All sunshined meetings/hearings can be viewed here.
What Does a Downgrade Mean
Impact of Credit Downgrade
We've been talking about the downgrade to the state's bond rating. Many people shrug their shoulders and move on, which is unfortunate. The downgrade translates into a tax increase for every Pennsylvanian.
This year alone it is an extra $8 million to $10 million in more taxpayer money needed. If it's a 20-year bond, it could be hundreds of millions of dollars going into the pockets of Wall Street. This impacts the overall fiscal health of the Commonwealth, and it impacts the finances of municipalities and school districts, increasing their borrowing costs as well.
The perceptions of Pennsylvania's fiscal health and stability also are vital when attracting economic growth of small and large employers. The downgrade means those making investment decisions are more likely to view the Commonwealth's fiscal situation unfavorably. As a result, Pennsylvania could lose out on a significant amount of investment opportunities.
Unfortunately, it is nearly impossible for us to measure these costs.
Even with progress on a responsible budget, we do not know how quickly our credit rating will recover. The rating agencies reassess the Commonwealth's credit rating two times a year.
We remain convinced that we must finish the job we started in February by creating stability in budgeting.
PennDOT Secretary Visits Williamsport
PennDOT Secretary Visits CSVT construction site; updates progress on long-awaited improvements
On October 10th, PennDOT Secretary Leslie Richards reviewed progress on the ongoing project to build the Central Susquehanna Valley Transportation Project (CSVT), and earlier in the day offered an update at the Williamsport/Lycoming Chamber of Commerce.
Once completed the CSVT project will close a long-standing gap in the U.S. 15 north-south corridor and help the area continue to be an attractive place to live and work.
Construction tied to the first of an anticipated seven contracts for the two sections of the 13-mile, four-lane limited access highway started in January 2016. The bridge is expected to be completed in 2020.
The northern section stretches from the southern end of the existing four-lane limited access highway carrying Route 147 in West Chillisquaque Township, Northumberland County, to U.S. 15 in Union Township, Union County.
Final design of the southern section is underway. It stretches from U.S. 15 in Union Township to the northern end of the Selinsgrove Bypass, Snyder County, and includes a new connector to Route 61 and the Veterans Memorial Bridge across the Susquehanna River.
PennDOT is moving the alignment for a 2-mile section of the planned corridor for the southern section to avoid fly ash basins. PennDOT is working toward the original goal of completing the southern section by 2024. The final schedule will be better refined after the November public meeting.
Talk to Your State Senator Statewide Video Competition
Calling all middle and high school students in the 23rd District!
Drug addiction has taken hold in every corner of our state, including right here across Northcentral and Northeastern PA. This disease does not discriminate.
The state Senate is holding a statewide video competition about keeping kids away from drugs and alcohol. $10,000 in prize money will be awarded to the creators of the best videos.
For more information on the competition, visit http://www.acommonwealthcrisis.com/.
October is Breast Cancer Awareness Month
Legislators Turn Fountain Pink for Breast Cancer Awareness Month
To kick off Breast Cancer Awareness Month, the Pennsylvania Breast Cancer Coalition (PBCC) joined with legislators near the Capitol's East Wing fountain to raise visibility of the disease and to promote preventative care in the Commonwealth.
"Early detection is the best weapon that we have (to fight Breast Cancer)," said Pat Halpin-Murphy, President and Founder of Pennsylvania Breast Cancer Coalition. Halpin-Murphy reminded those in attendance of the importance of annual mammograms, and claimed that 37 woman are diagnosed with breast cancer in Pennsylvania each day.
#Connect On Social Media
Follow me on Twitter for news and updates on what's happening in the Senate and across Bradford, Lycoming, Sullivan, Susquehanna and Union counties.
10-13-17 @SenatorGeneYaw: Addressing attendees at @GeisingerHealth's Pain Management Symposium. Highlighting work of @PaLegis to combat opioid epidemic.
10-11-17 @SenatorGeneYaw: Sitting down now with Sunbury @DailyItem's @EricShick11 for "One on One", DI's new weekly digital program.
10-11-17 @kanterin22: Loving the insight from @SenatorGeneYaw @RepMikeHanna and Rep. Tina Pickett. @PABankers #pabankers
Department of Homeland Security Extends REAL ID Enforcement Grace Period for Pennsylvania
Applies to Residents' Access to Federal Facilities Through January 22nd, 2018
The Department of Homeland Security (DHS) has announced a REAL ID enforcement grace period through January 22nd, 2018, which means that Pennsylvania residents will not face access issues when entering federal facilities through at least that date.
PennDOT submitted an extension request to DHS in early September and is currently awaiting DHS response.
The enforcement grace period applies only to entrance to federal facilities. There is no enforcement on commercial air travel until January 22nd, 2018.
PennDOT has begun work on the implementation of REAL ID, and estimates REAL ID-compliant driver licenses and identification cards will be available at the customer's option in March 2019. This will allow ample time for customers who want a REAL ID product to get one before the final DHS effective date of October 1st, 2020.
Information on REAL ID in Pennsylvania, including frequently asked questions, is available at www.dmv.pa.gov.
October is Drug Take Back Day
National Prescription Drug Take Back Day Oct. 28
On Saturday, October 28th, from 10 a.m. to 2 p.m. at some 5,500 locations across the country, individuals can dispose of expired, unused, and unwanted prescription drugs. Medicines that languish in home cabinets are highly susceptible to diversion, misuse, and abuse. The service is free and anonymous—no questions asked. For more information about the disposal of prescription drugs, locations in our region, and the Take Back Day event, go to the DEA Diversion website.
You can help promote National Prescription Drug Take Back Day with your employees, members, and in your community by using the partnership material provided by the DEA and available on their website.
Together we can help protect our communities and fight this epidemic.
October Satellite Hours and Locations
As a means to better serve area residents through increased outreach efforts, the below hours and locations have been added to provide better opportunities for area residents to meet directly with a member of my staff.
Wednesday, October 18, 2017
10AM-12PM
Towanda Library
104 Main Street
Towanda, PA 18848
Thursday, October 26, 2017
3PM-5PM
Green Free Library
38 North Center Street
Canton, PA 17724
Satellite Office hours provide area residents with the opportunity to meet one-on-one with the senator's staff to address state-related problems they may be encountering. A staff member will be able to offer assistance with driver license and vehicle registration applications, and help in filling out applications for various state programs, such as the senior citizen Property Tax/Rent Rebate and PACE prescription drug assistance programs.
Constituent services are always available at Senator Yaw's Williamsport District Office, located at 175 Pine Street, Suite 105, from 9AM-5PM, or by calling (800) 443-5772.